Fuego SCS , safety laboratory sterilizer, with touch free IR-Sensor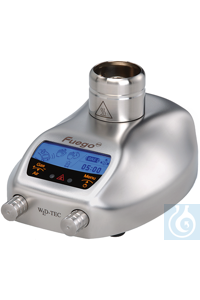 Kuva voi poiketa alkuperäisestä
Tuotenumero.: 103078000
Hinta pyydettäessä
for 1 Pakkaus
Fuego SCS - Safety laboratory Gas Burner with touch free IR-Sensor.
Suitable for all flame related applications in the laboratory. The low profile body facilitates
ergonomic operation; the streamlined design reduces air flow disturbances in a clean room
workbench. The Fuego SCS can be operated with foot pedal, button function or touch free lR-Sensor. Made of stainless steel, with fireproof controls.

with Double-Click lR-sensor, button function and stainless steel foot pedal (optional).
-Double-Click IR-sensor: This adjustable safety function ensures that the burner can
only be ignited by activating the lR-Sensor twice. Adjustable lR-sensor reaction distance: 5 to 50 mm.

New: Illuminated graphic display: The animated, self-explanatory and language-less symbol
display facilitates a rapid selection of all functions.
-6 standard-programs with count down display: 1 s to 2 h selectable.

New: The first safety laboratory gas burner with comfort package:
-Cooling time reminder for inoculation loops.
-Temperature regulation for heating media.
-Gas consumption display for gas cartridges.
-Flexible & individual by selecting user account.
-Acoustic signals as operating aids.

New: Additional safety features:
-Zero-pressure shut off for a pressureless gas hose at the end of work
-Graphical installation instructions facilitate the initial start-up.

- SCS Safety Control System with gas safety cut off:
lgnition and flame control, temperature
monitor, automatic unit switch off,
residual heat display, burner head assembly monitor.

- BHC Burner Head Control.
- Removable burner head.
- Tilt mechanism right / left.
- Turbo flame.
- Holding device for 3 inoculation loop holders.
- Nozzles for natural gas, propane / butane gas.
- Dimensions (W x H x D): 103 x 49 x 130 mm.
- Approved by DIN-DVGW, approval no. NG 221 1 AS0167.
- Warranty: 2 years

The range:

Fuego SCS with IR-Sensor, graphic display & button function
6 standard-programs for IR-Sensor, button function, foot pedal and temperature regulation
DoubleClick IR-Sensor (connectable)
SCS (Safety Control System) with BHC
(Burner Head Control)
Removable and decomposable burner head
Adjustable IR-Sensor reaction distance and DoubleClick time
Tilt mechanism, right / left
Holding device for 3 inoculation loop holders
Nozzles for natural gas, propane / butane gas
Turbo flame
Removable cover of burner shaft for cleaning purposes
Multi wrenche for gas connection
Screwdriver for burner head and cover of burner shaft
Tubing connector with swivel nut
Switching power supply (global)
Instruction manual and 2-year warranty.




lisää
(-) Tekninen tieto:
Tuoteseloste:
Fuego SCS
Accessories:
Spares:
8100090

Burner head made of stainless steel , for Fuego SCS and Gasprofi 1 SCS micro
Luokittelu:

WLD-TEC

Artikkelinumero:

8.200.000

Kataloginumero:

103078000

Kategoria:

Poltin
Show all Poltin from WLD-TEC

Pakkaus:

1 kappale

Voimassa:

31.12.2023

Viime päivitys:

31.12.2022
Alternative articles:
6004000

Gasprofi 1 SCS micro, safety laboratory sterilizer, with touch free IR-Sensor +

6007000

gasprofi 1 SCS micro school edition, safety laboratory sterilizer, with button f

8204000

Fuego SCS pro, safety laboratory sterilizer, with touch free IR-Sensor + battery