Single gas detector BW Clip, detector for 2 years H2S 10ppm/ 15ppm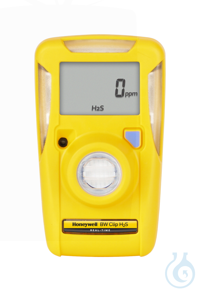 Kuva voi poiketa alkuperäisestä
Tuotenumero.: 100824115
Hinta pyydettäessä
for 1 kappale


The actual price may differ
Single gas detector BW Clip, detector for 2 years hydrogen sulphide (H2S) 10ppm/ 15ppm
Two years maintenance-free permanent protection hydrogen sulphide. It is particularly low-maintenance as no calibration is required, there is no need to replace the sensor and the batteries do not need to be changed or charged. Activated gas detectors automatically perform an internal diagnostic test every 24 hours. Certified according to ATEX II 1 G Ex ia IICT4 Ga.
The BW Clip is compatible with the IntelliDoX. The input gas detectors are supplied ready for use
and complete with shockproof housing, specified sensor, stainless steel crocodile clip, calibration adapter and operating instructions.
Technical data:
Dimensions: 41 × 50 × 87 mm
Weight: 92 g
Alarm setting: 10ppm/ 15ppm
Please ask for shipping costs!
lisää
Luokittelu:

Dewert

Artikkelinumero:

BWC2-H

Kataloginumero:

100824115

Pakkaus:

1 kappale

Voimassa:

30.09.2022

Viime päivitys:

31.08.2022